Doing business in El Salvador
General information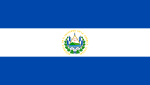 Official name

Republic of El Salvador

Capital

San Salvador

Largest city

San Salvador

Area

21.041 km2

Population

6.486.201 (2020 estimate)

Density

324/km2

GDP

US$ 24.639 billion (2020 estimate)

Currency

United States Dollar (USD), Bitcoin (BTC)
Trade relations
This country benefits from:
The same conditions are applicable for the countries integrating this region. You can find more information on the following pages:
My Trade Assistant provides you with detailed information about the tariffs, the measures applicable to your product and market, and displays the tariff dismantling schedules for the relevant tariff lines.
Statistics
List of product sections with more exports and imports
EU exports and imports by Member State
Information by sector
El Salvador is an attractive market for EU companies in many sectors. You will find in this section additional information on key trade sectors offering business opportunities to EU companies in the country.