Presenting ROSA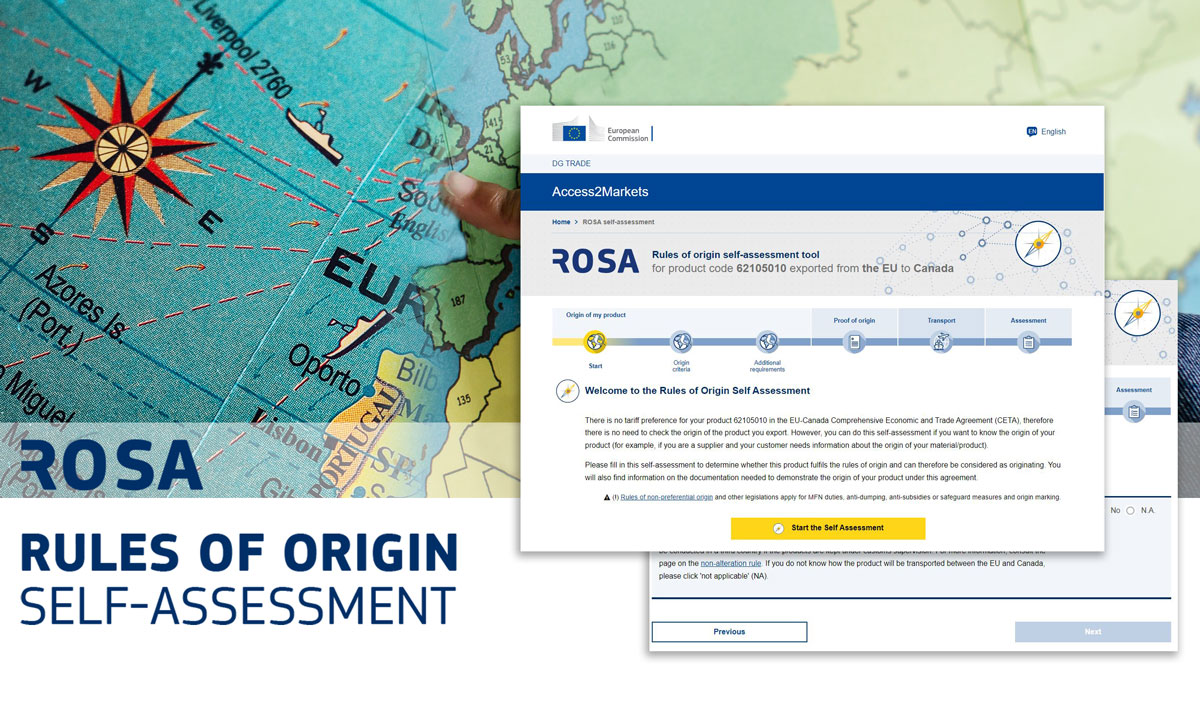 The EU's worldwide network of trade agreements cuts customs duties or removes them altogether.
To benefit from lower or zero duties, your product needs to comply with the rules of origin.
ROSA– the Rules of Origin Self-Assessment tool in Access2Markets – offers guidance in simple steps to determine the rules of origin for your products.
In January 2022 a beta version of the new Rules of Origin Self-Assessment tool (ROSA 2) was launched. It is now more user-friendly than ever to assess if your product can qualify for reduced tariffs under the EU's Trade Agreements. Try it out today and please tell us what you think, your feedback will help us to make it even better. More info here.
The interactive guide covers your exports to or imports from*
Countries available in ROSA1 and ROSA2 (28)
Botswana
Canada
Colombia
Costa Rica
Côte d'Ivoire
Ecuador
El Salvador
Eswatini
Faroes
Georgia
Ghana
Guatemala
Honduras
Japan
Jordan
Lesotho
Mozambique
Namibia
Nicaragua
North Macedonia
Palestine
Panama
Peru
South Africa
South Korea
Switzerland
United Kingdom
Vietnam
Countries only available in ROSA1 (10)
Albania
Bosnia and Herzegovina
Egypt
Iceland
Kosovo
Moldova
Montenegro
Norway
Serbia
Ukraine
Countries only available in ROSA2 (19)
Antigua and Barbuda
Bahamas
Barbados
Belize
Chile
Dominica
Dominican Republic
Fiji
Grenada
Guyana
Jamaica
Papua New Guinea
Saint Kitts and Nevis
Saint Lucia
Saint Vincent and the Grenadines
Samoa
Solomon Islands
Suriname
Trinidad and Tobago
*Further countries to be added soon
The EU-Japan agreement and the EU-UK Trade and Cooperation Agreement are available in all EU languages.
ROSA is a one-stop-shop for rules of origin for your product under the EU trade agreements listed above.
ROSAis free and easy to use!
How does it work?
Go to My Trade Assistant and enter
the product
the country of export
the country of import
click on Rules of origin in the left side menu to get your result
ROSA gives you
the rules of origin for your product under each agreement
a step-by-step check-list to see if your product meets the criteria for preferential rules of origin treatment
an explanation of rules of origin requirements and terms
practical examples
direct access to legal texts
a tailored self-assessment report based on your answers that you can download or print
an overview of rules of origin procedures
Work directly with your suppliers
You can use ROSA to notify your suppliers directly so they can
check rules of origin
correctly fill in the supplier's declaration
Compare rules across several markets
Use ROSA to compare product-specific rules under different EU trade agreements.
What's next?
ROSA is currently available in English but will continue to evolve, including more language versions and more EU trade agreements.
General information on rules of origin